"Listen closely, identifying new ways and building bridges - that is our mission."
C. Michael Illies – President
ILLIES at a glance
Founded in 1859 as the first German trading house operating in Japan, ILLIES is a pioneer in East Asian trade. In its 160 years history, ILLIES has evolved from a general trading house to a specialist for top-end industrial machinery and technologies. Today the company is still family owned and managed – by the fifth generation of Illies – with a strong regional base consisting of 13 branches in the Asian region.
ILLIES offers a comprehensive products and services portfolio for diverse industrial technologies: from project development and implementation of machinery projects up to complete turnkey solutions and after-sales support. As sales and project partner, ILLIES links world-leading technology providers with the manufacturing industry in Asian markets.
History
1859
1860s
1880s & 1890s
1900s & 1910s
1920s & 1930s
1940s & 1950s
1960s & 1970s
1980s & 1990s
2000s - 2015
Today
Establishment of the company on the island Dejima in Nagasaki, by German merchants Louis Kniffler and Hermann Gildemeister.
Within five years the company becomes the largest German trading firm in Nagasaki.
Carl Illies joins the company. He assumes leadership of the Nagasaki branch in 1868.
Under his management the Yokohama and Tokyo branch become the center hub of the company.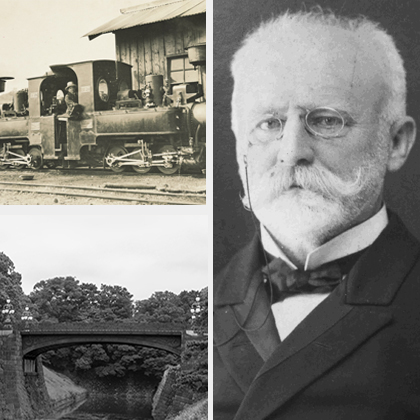 Carl Illies becomes sole shareholder in 1880. The company is renamed C.ILLIES CO. (IRISU イリス Shokai).
ILLIES obtains the agentship of the KRUPP corporation and plays an important part in the development of the Japanese railway network. Nippon Tetsudo Railway Company and Kyushu Railway Company are among the key customers.
In October 1886 ILLIES completed a modern European style bridge at the Imperial Palace in Tokyo. The bridge called Niju-Bashi-Bridge becomes symbol of the high standing that the company already enjoyed in Japan back then.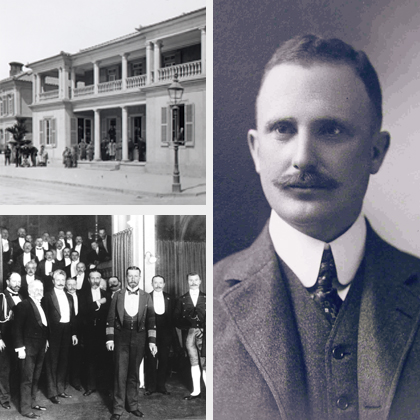 Carl Illies is among the founders of the German Asia-Pacific Business Association (OAV) in Hamburg and becomes its first president.
In 1910, he hands the business over to the second generation: Carl Illies junior is named new President of ILLIES.
World War I ends all trade between Germany and Japan. All branch offices of German companies are closed down. The company's successful expansion collapses.
As employees of the company had remained in Japan, ILLIES is quickly able to resume trading in 1919, reopening its branches in Tokyo, Yokohama, Kobe, and Osaka.
Carl Illies junior starts a mission for the return of German POWs from Japan.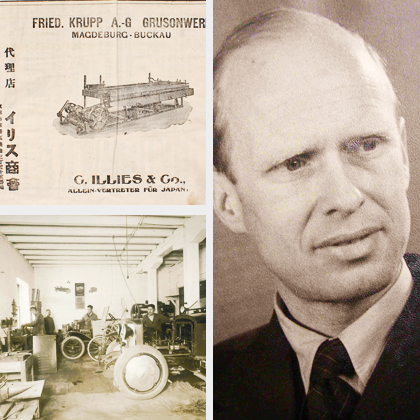 After the war, Japanese companies show great interest in German technology, particularly in areas of mechanical engineering, electrical engineering, and aircraft construction. ILLIES concludes agency agreements with well-known German companies including BOSCH, BLEICHER, BMW, DORNIER, and MAN.
On September 1st 1923, Tokyo and Yokohama are hit by the Great Kanto Earthquake, resulting in 105,000 deaths. ILLIES incurs a devastating blow with the destruction of its Tokyo and Yokohama Office and the loss of all business documents and records. Due to this catastrophe, several of ILLIES' customers become insolvent.
During the world economic crisis the trading volume falls by 70% and the number of employees from 200 to 30.
Despite the collapse of the markets, ILLIES manages a quick recovery and establishes new branches in Shenyang and Changchun in 1932, as well as in Manila in 1938 and Beijing in 1939.
In 1935 the third generation of Illies assumes management: C. Jürgen Illies is named new President.
The outbreak of World War II in the Pacific results in the closure of the branches in Manila, Japan, Manchuria, and China.
After the capitulation of Germany and Japan, the American military government in Japan expropriates all of ILLIES' assets. The offices in East Asia are closed down. German trade with East Asia ceases to exist.
In 1950 the growing Japanese economy allows ILLIES to resume its business activities in Japan, and the offices in Osaka and Tokyo reopen.
South Korea's economic upturn of the late 1950s is largely driven by the textile industry. ILLIES advances to become chief supplier to the industry leader Cheil Wool (SAMSUNG Group).
In 1956 KARL MAYER Textilmaschinen GmbH grants ILLIES exclusive representation for the Japanese and Korean market.
In 1957 ILLIES opens a branch office and a service department in Seoul. Kiel Bong Park joins ILLIES at the recommendation of SAMSUNG founder B.C. Lee. Park later becomes partner in the firm in Korea and helps expand its portfolio beyond textile machines serving the fast growing Korean economy.
The Hamburg head office is relocated to modern premises in the UFA Palast in 1958, in the same year ILLIES opens a branch office in Vietnam.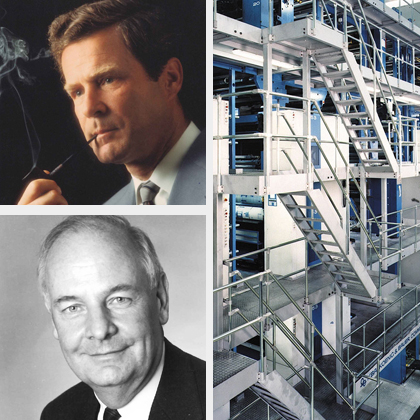 Decades of market expertise in Japan and China begin to pay off. The business expansion in all Asian countries is initially based on ILLIES' far reaching competence in textile technology and broad portfolio of textile machinery. ILLIES later begins to sell machinery for the food sector and, finally, complete industrial production plants as turnkey contractor.
Carl-Heinz Illies takes over the fourth generation management. In 1967 Klaus Lindhorst – who later becomes partner – joins the company and takes the helm in Tokyo, and responsibility for the Asian offices. They jointly manage the ILLIES GROUP during the next 35 years and lead the company to new heights. In the same year ILLIES opens new offices in Hong Kong and Taiwan.
A Manila-based partnership with Antonio and John Rocha under the name of ILLIES ENGINEERING (PHILS.) INC. is founded.
Over the following years ILLIES broadens the company's geographical reach. In 1974 a branch office in Hong Kong is established.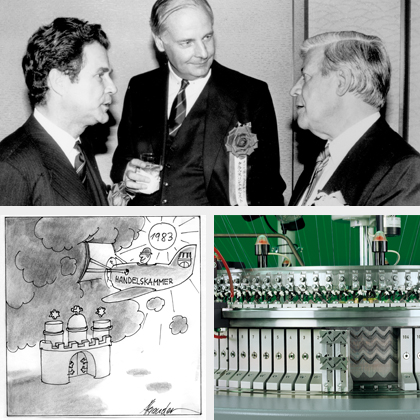 Carl-Heinz Illies is elected chairman of the Hamburg Chamber of Commerce in 1981.
In 1984 the company's 125th anniversary is held in Tokyo. Germany's former chancellor Helmut Schmidt gives the keynote address.
The opening of China under Deng Xiaoping marks the starting point of another successful expansion. In order to serve the entire Chinese economic region, ILLIES establishes new branches in Guangzhou, Beijing, and Shanghai along with further liaison offices in various provinces.
In 1993 ILLIES establishes a technical service center in Shanghai. At the same time ILLIES introduces after-sales-services to its Chinese costumers, establishing itself as innovator in this field.
In 1998 ILLIES quickly recovers from the Asian Economic Crisis, due to the wide spectrum of its product portfolio and geographical reach, from Japan to China and South East Asia.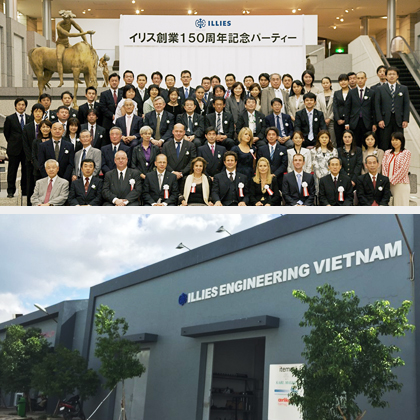 ILLIES establishes new branches in India (Mumbai) and Indonesia (Jakarta and Bandung), two of Asia's fastest growing economies.
With C. Michael Illies, the family's fifth generation takes the helm in 1995. Together with his partners André Piédavent and Rolf Strerath, he forms the new management board.
ILLIES celebrates its 150th anniversary in 2009.
A technical service center is set up in Ho Chi Minh City, Vietnam in 2015.
In 2015 Dr. Wolfgang Flägel, Gerd Knospe and Jan Rundshagen join ILLIES management.
ILLIES offers a comprehensive portfolio of advanced industrial technologies and innovative services, including extensive after-sales service structure in seven Asian markets with 13 branch offices.
In November 2017, the ILLIES GROUP successfully acquired Ferrostaal Thailand Co. Ltd. The newest member of the ILLIES GROUP was renamed in C. ILLIES (Thailand) Co., Ltd. With the strong and solid background of the company, ILLIES expects positive synergies and expansion of the existing portfolio to Thailand.
Further, the ILLIES GROUP continues to focus on new technologies and the distribution in various Asian markets as well as on successful customer service by enlarging for example, the Service Station in Ho Chi Minh City and opening an innovative showroom for 3D solutions in Tokyo.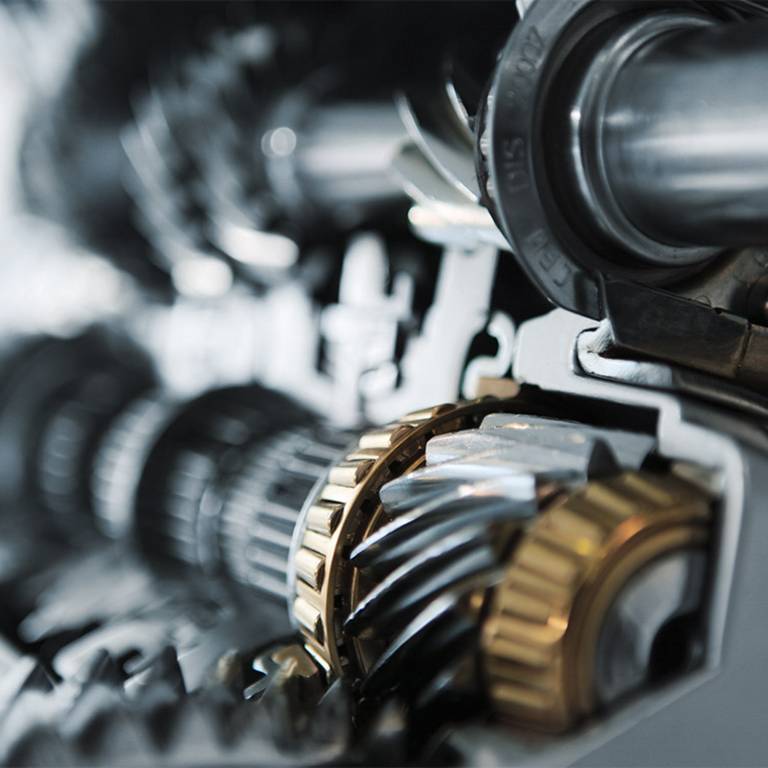 "Instead of guarding the ashes of the past, we kindle the flames of the future.".

Carl-Heinz Illies (1935-1995)
Corporate Governance
At ILLIES, we believe that the dedication and expertise of our reliable staff is our greatest asset. We are committed to the needs of our customers and continuously strive for excellence. For us, integrity is more important than short-term success.
We are always aware of our obligations towards our business partners, employees, and shareholders. Our goal is to provide value-adding functions. We strive to accomplish this by promoting innovative technology solutions and a comprehensive range of personal services.
Our code of conduct and adherence to Corporate Compliance define our core values (read more).