Label Forum 2019 in Japan – K. K. IRISU (C. ILLIES & CO.) presented its partner DURST Phototechnik and OMET
One of the most important events for the label printing and packaging industry in Japan – Label Forum 2019 – has been held on 9-10 July, 2019 in Tokyo. Over 140 local and international exhibitors demonstrated the latest equipment and materials and shared market trends and insights. The guests were invited to visit the different areas of the trade fair, which included a conference hall, an exhibition hall, as well as a label pavilion and VIP reception.
K.K. IRISU (C. ILLIES & CO.) attended the event together with its partner companies in Japan DURST Phototechnik and OMET.
Label Forum Japan is the only venue to attract delegates from key label printing and converting industries, with solutions and technologies for the Japanese label industry. It is the 7th edition of this event since 2006. More than 4,000 visitors from all over the world joined the trade fair.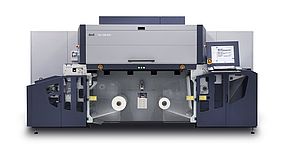 The Tau 330's ink-jet technology offers the flexibility required for producing products faster, more efficiently and with optimum print quality in a wide variety of different applications.
Source: DURST