KARL MAYER delivers its 125,000th machine to the Korean sports shoe fabric company Dong-Jin
Both companies cooperate and are supported by ILLIES Korea
ILLIES Korea supported successfully the delivery of KARL MAYER's 125,000th machine to the well-known Korean sports shoe fabric company Dong-Jin. This new jacquard raschel machine has been specifically modified and offers maximum patterning flexibility. It operates at a unique speed of 1,200 min-1.
After a very short delivery time, the new KARL MAYER machine went immediately into production, without first undergoing processing trials in the customer's research department of Dong-Jin. The company manufactures shoe fabrics for the sports industry and is one of the biggest global suppliers in this sector. Dong-Jin has 600 employees, an own Innovation Center and a large number of fabric producers acting as subcontractors in the southeast of the Korean Peninsula, but also in other countries across Southeast Asia. Dong-Jin Textile owes its success to its exceptional closeness to the market. The president, Woo Chul, Choi, has excellent contacts with the brand names operating in the sports shoe sector, and provides them with textile solutions so that they are always one step ahead.
ILLIES Korea has been cooperating with Dong-Jin for decades. Among with KARL MAYER's top-class machines, ILLIES Korea delivers to Dong-Jin also premium dyeing machines made by Thies for the processing of high-quality sportswear fabric.
About Dong-Jin:
Dong-Jin Textile has its headquarters in Busan, Korea. The company founder, Byung Kil, Choi and his son, Woo Chul, Choi, who now manages the company, have bought more than 250 warp knitting machines – exclusively from KARL MAYER. The company has invested in high-speed tricot machines, double-bar and jacquard raschel machines as well as warping machines. The machines are operating in several factories in South Korea and Vietnam. Dong-Jin Textile also intends manufacturing in Indonesia from the second half of 2019.
(Source: KARL MAYER)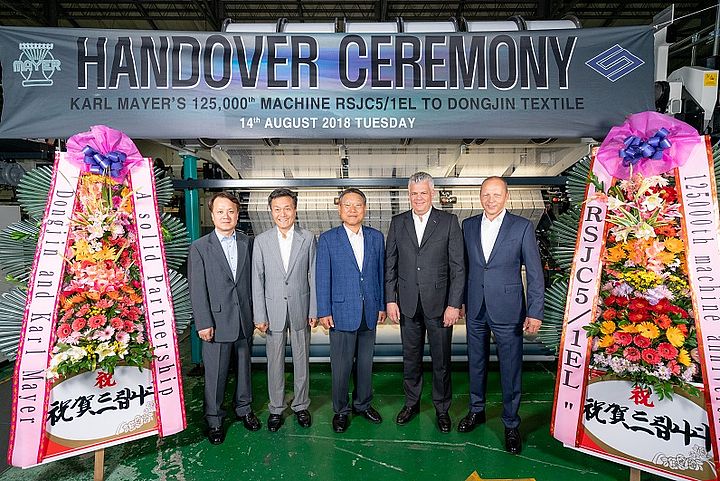 ---
Interview statements by Woo Chul, Choi, President of Dong-Jin Textile, on the occasion of the handover of the anniversary machine (Source: KARL MAYER):