ILLIES presents its Textile Portfolio at Vietnam's major Textile Fair SaigonTex
Next week ILLIES Vietnam will present its textile portfolio at Vietnam's major textile fair SaigonTex. The largest and most important event for the Vietnamese textile and garment industry will start on 10. April - 13. April 2019 at SECC in Ho Chi Minh City.
Textile technology solutions of leading partners: Karl Mayer, Oerlikon Manmade Fibers, Itema, Terrot, Thies, Rieter & Graf
Along with colleagues from Germany, Korea and Taiwan, the team of ILLIES ENGINEERING VIETNAM LTD. will be on site in Hall A1 at Booth No. 1L-1.
Presenting international and local customers textile technology solutions of our leading partners:
Karl Mayer – complete warp knitting, technical textiles and warp preparation for weaving and digital solutions
Oerlikon Manmade Fibers Segment - expertise from extrusion and polycondensation to filament spinning, texturing and nonwoven production
Itema – advanced weaving solutions
Terrot – electronic and mechanic controlled circular knitting machines
Thies – concepts for yarn and fabric dyeing
Rieter – technology, parts and accessories for short-staple fibre spinning
Graf – card clothings for textile machinery: metallic card clothings, flexible flat clothings and stationary flats.
Meet ILLIES at the SaigonTex 2019 in Hall A1, Booth No. 1L-1. Arrange your appointment with our colleagues from ILLIES VIETNAM:
saigonilliesde / Phone: +84 (28) 3526 7301
For further information about SaigonTex 2019 click here.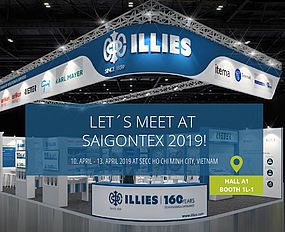 Gain insight into how ILLIES meets the service needs of South East Asia's Textile Industry
Have a short break from the hustle and bustle of the fair and take the chance to visit our Service Station in Ho Chi Minh City. Here you will gain an insight into how ILLIES meets the service needs of South East Asia's Textile Industry.
Just speak to our booth team. Our colleagues will be happy to organise your transfer to the service station.