At ILLIES it's all about customer service – then, as now
We take you on a quick time trip from the Service Station 100 years ago to today's.
Over the last 160 years, ILLIES has experienced a great deal of change in its vivid corporate history, while customer service has remained constantly the heart of our daily business. Then, as well as now, service stations are important facilities when it comes to maintaining an efficient local customer service infrastructure. In the early 1920's ILLIES opened its first service station for Bosch in Japan. Comparing historical archive material with the impressions of today's service station in Ho Chi Minh City, Vietnam shows how things were done differently a century ago than they are now.
Service Station for Bosch in the 1920s in Japan
In the early 1920s, ILLIES was granted the exclusive right of sale for Robert Bosch AG systems including spare parts and accessories in Japan. This was an important cooperation for ILLIES and the local customers required service of the highest quality. Reflecting upon this mission, the company set up a workshop in Kobe, Japan where highly qualified employees repaired Bosch products. After the Second World War, the Allies temporarily ceased German-Japanese trade. ILLIES was forced out of Japan thus losing its Bosch representation. In 1953, however, ILLIES returned to Japan and a new successful phase began, turning the company from a traditional trading firm into a global engineering company on a perpetual expansion course.
Advanced Service Station for textile technologies in Vietnam
This growth strategy led the company to Vietnam, where it opened its first branch in 1957 in Saigon - today's Ho Chi Minh City. In the 70's difficult international and local political circumstances again forced the enterprise to withdraw. In 1991 the branch office re-opened. Two years later a second office was added in Hanoi. In the years to follow, Vietnam experienced enormous economic growth, especially in the textile sector. The growing quantity of machines increased the demand for high-quality services in the country. To meet this demand locally, ILLIES expanded its product range in 2015 with an advanced Service Station for textile technologies in Ho Chi Minh City. Today the facility of 600m² incorporates a climate-controlled warehouse to store sensitive electronic parts, training facilities, as well as a workshop equipped with highly sophisticated electronic and mechanical tools and fixings. A 40-person team, including engineers and spare parts sales agents, offers tailor-made services for local and foreign customers.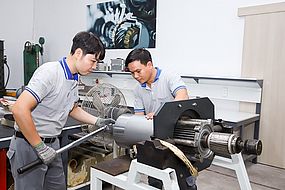 Advancements in technology have always been a game changer and we can only guess what the service station of 2119 will look like. ILLIES, however, continues to move forward, embracing change and focusing on the needs of its customers – excited to witness awesome progressions in technology which are yet to come!
Visit this web page to get more information about our Service Station in Vietnam.